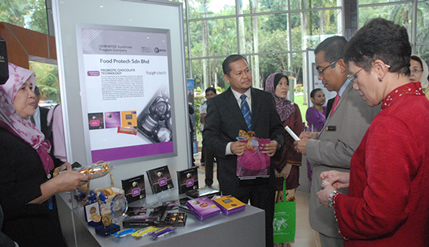 By Siti Madihah Ahmad Mahir UiTM Industrial Trainee
Pix by Saliman Leman

BANGI, 1 Feb 2011 – Ten of the 33 Universiti Kebangsaan Malaysia Start-Up Companies (STUs) launched by Minister of Higher Education Malaysia, Dato' Seri Mohamed Khaled Nordin yesterday are grouped under the UKM-MTDC Symbiosis programme companies, 19 others are technology-based companies, three technology services companies and a technology transfer/holding company.

The 10 UKM-MTDC Symbiosis programme companies are A1 Meditech Sdn Bhd, Cell Tissue Technology Sdn Bhd, Food Protech Sdn Bhd, Gas Sensor Sdn Bhd, GreenXS Sdn Bhd, HCA Products Sdn Bhd, iCON Pharma Sdn Bhd, NXPhotonics Sdn Bhd, PV&T Technologies Sdn Bhd, and SolarGE Sdn Bhd.

The 19 technology-based companies are Altus Technology Sdn Bhd, Biotech Diagnostics Sdn Bhd, Cloudstats Sdn Bhd, Compleo Technology Sdn Bhd, Credo Technology Sdn Bhd, Electronanotech Sdn Bhd, Fortiscienta Sdn Bhd, GreenPolyol Sdn Bhd, KieVision Sdn Bhd, K Eco Tourism Sdn Bhd, MINDS Technology Sdn Bhd, Navitas Technology Sdn Bhd, Nivar Sdn Bhd, Refrex Sdn Bhd, Serotech Sdn Bhd, Tela Technology, UGreen Tech Sdn Bhd, Valde Technology Sdn Bhd, and VLearning Sdn Bhd.

The three technology services companies are MyBioSerasi Sdn Bhd, MyCRO Sdn Bhd and UKM eBiz Sdn Bhd, and the technology transfer/holding company is UKM Technology Sdn Bhd (UKM Tech).

The Centre for Entrepreneurship and SME Development (UKM-CESMED) also launched yesterday was established in October last year to link education, entrepreneurship and SMEs development.

CESMED provides practical and consulting-based learning and training approaches that encompasses education, training, research, consultancy and business incubation to promote the full cycle in entrepreneurship development and sustainable growth.

The centre promoted green entrepreneurship and SMEs development, where it educates graduates to become responsible entrepreneurs while linking industrial players to become its entrepreneurship and SMEs mentors.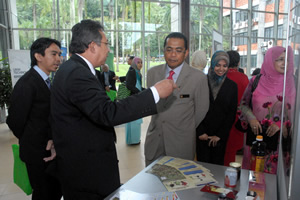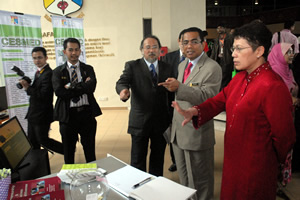 Research and Development and Commercialisation (R&D&C) in UKM is anchored by the Deputy Vice Chancellor (Research and Innovation), Prof Dr Rahmah Mohamed and consist of three organisations, the Centre for Research and Instrumentation Management (CRIM), the Centre for Collaborative Innovation (PIK) and UKM Technology Sdn Bhd (UKM Tech).

As the research management centre of UKM, CRIM hands over completed researches and intellectual properties (IP) to PIK for protection, either to be patented, copyrighted or trademarked.

When the research or IP is ready to be commercialised, it is then assigned to UKM Tech that manages the commercialisation of the IP either through licensing or via a start-up company.

UKM Tech, established on 28 May 2009, is the Technology Transfer Company as well as the Holding Company for UKM start-up companies and fully owned by the university. Currently it has successfully set up the 33 university start-ups from technologies with IP.

It aims to step up the commercialisation of UKM's R&D and Intellectual Properties by bringing them to the global market.

UKM Tech collaborates with international partners such as ISIS Innovation, the Technology Transfer company of Oxford University, UK and Stevens Institute of Technology, US.
Below is the full list of the STUs:
HEAD OF RESEARCHER

CEO / BUSINESS  MANAGER

TECHNOLOGY

A1 MEDITECH SDN BHD

Ms Tan Ai Ai

CEO – Marianah Ab Wahab

A1 BOD: a patient transfer device

 

CELL TISSUE TECHNOLOGY SDN BHD

Prof Dr Ruszymah Idrus

CEO – Dr. Khairul Dato' Baharin

KULITKU: Tissue engineered human skin

 

FOOD PROTECH SDN BHD

Dr Nazarudin Ramli

CEO – Farhana Mohd Shariff

Technology in producing chocolate and confectionary products

GAS SENSOR SDN BHD

Prof Emeritus Datuk Dr Muhammad Yahya

CEO – Siti Afeefah Mohamad Yusof

Carbon monoxide sensor

GREENXS SDN BHD

Dr Azimin Tazilan

CEO – Nur Suryana Muhamad

escCube – A smart city kiosk

HCA PRODUCTS SDN BHD

Dr Mohamed Osman

CEO – Muhsin Mohamad

Hydroxycitric acid – Weight loss agent from Roselle mutant

ICON PHARMA SDN BHD

Prof Madya Dr Cairul Iqbal

CEO – Mohamad Faizal Abu Bakar

Nata De Coco-based hydrogel for pharmaceutical, medical & cosmetic applications

NXPHOTONICS SDN BHD

Penyelidik: Abang Anuar Ehsan

CEO – Luqman Ismail

Plastic Optical Coupler (POF) for fiber in the home & automobile system applications

PV&T TECHNOLOGIES SDN BHD

Penyelidik:

Prof Dr Kamaruzzaman Sopian

CEO – Khairul Hakimin Mohd Ali

Solar-assisted drying system

SOLARGE SDN BHD

Penyelidik:

Dr Nowshad Amin

CEO – Noor Shahiwan Ismail

Solar charge controller

ALTUS TECHNOLOGY SDN BHD

Penyelidik:

Prof Ir Dr Abdul Wahab Mohammad

Mohd Fairuz Mat Isa

Production of  Halal collagen and collagen-based products

BIOTECH DIAGNOSTICS SDN BHD

Penyelidik:

Prof Dr Ramelah Mohamed

 

Diagnostic Kit to detect clostridium difficile that causes diarrhea

CLOUDSTATS SDN BHD

 

Chew Kai Feng 

Online Actuarial Services

COMPLEO TECHNOLOGY SDN BHD

Penyelidik:

Prof Dr Ismail Saiboon

Abdul Rahman Hisham

Medical devices and products including the Pelvic Binder

CREDO TECHNOLOGY SDN BHD

Penyelidik:

Prof Rahmah Mohamed

Kamarul Huda Kamaruddin

Platform technologies for developing vaccine and diagnostic kits 

ELECTRONANOTECH SDN BHD

Penyelidik:

Prof Dr Burhanudin Yeop Majlis

Siti Khadijah Mohamad Dahari

Design and development of MEMS, microelectronics, nanotechnology, photonics and electrical products

FORTISCIENTA SDN BHD

Penyelidik: Anasnudin Abdullah

Khairunnisa Redzwan

Software solution for Technology Valuation and Innovative Ideas Generation

GREENPOLYOL SDN BHD

Penyelidik:

Prof Madya Dr Khairiah Badri

 

Production of Palm oil-based Polyurethane Polyol

K ECO TOURISM SDN BHD

 

 CEO: Faa'iqa Abd Rashid

Virtual reality Eco-Tourism at 7 UKM Eco labs around the country

KIEVISION SDN BHD

Penyelidik:

Prof Madya Dr Rokiah Omar

 

Learning disabilities solutions including a software for testing that can detect a child's reading performance & progress, learning disabilities & eyesight problems

MINDS TECHNOLOGY SDN BHD

Penyelidik:

Prof Dato Dr Halimah Badioze Zaman

CEO – Roydean Osman

Educational Courseware for pre-school children

NAVITAS TECHNOLOGY SDN BHD

Penyelidik: Talib Sabri Sulaiman

 

Software solution to enable product traceability along the supply chains

NIVAR SDN BHD

Penyelidik:

Prof Dr Alauddin Mohd Ali

 

Non Invasive Vascular Age Reader (NIVAR) as a tool for the screening and early detection of cardio-vascular diseases

REFREX SDN BHD

Penyelidik: Sherry Sokmum

 

System to provide easy access to intelligence information aggregated from UKM and other universities

SEROTECH SDN BHD

Penyelidik:

Prof Madya Dr Ahmed Mahir

Rosmi Zamzuri Rusly

CiliBangi, Serai & other agricultural products from UKM

TELA TECHNOLOGY SDN BHD

Penyelidik:

Dr Chua Kien Hui

Norhaz-wani Aris

Technologies from Tissue Engineering Centre, HUKM including chondrocytes & artificial cartilage

UGREENTECH SDN BHD

Penyelidik:

Prof Wan Ramli Wan Daud

Akmal Hilmi

Green technology products focusing on Fuel Cell, Solar and Wind energy

VALDE TECHNOLOGY SDN BHD

 

CEO: Faizal Yusof

ICT Product Development company for UKM software / solutions

VLEARNING SDN BHD

Penyelidik:

Dr Rosseni Din

CEO –  Mohd Zamri Ismail

Virtual and versatile learning courseware / educational Tools

MYBIOSERASI SDN BHD

Pengarah:

Prof Madya Dr Anuar Osman

 

Contract research organisation offering toxicological and small animal testing services

MYCRO SDN BHD

Non-Executive Chairman: Prof Dato Dr Rahman Jamal

 

Contract research organisation conducting clinical trials and bioequivalence studies

UKM EBIZ SDN BHD

Director: Ken Low

 

A joint venture company developing e-Business Software with a Hong Kong ICT company