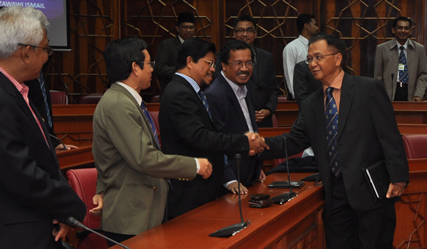 By Shahfizal Musa
Pix by Shahiddan Saidi

BANGI, 2 April 2012 – The chairmen of the Board of Directors of two research universities, the National University of Malaysia (UKM) and Science University of Malaysia (USM) switched places effective from yesterday.

Professor Emeritus Dato' Ir Dr Mohamad Zawawi bin Ismail has been appointed as the new Chairman of the Board of Directors of the National University of Malaysia (UKM) as from yesterday. 

He took over from Tan Sri Dr Zulkefli A. Hassan who has moved to USM as its Chairman. Prof Zawawi had also served as Chairman of Inti Universal Holdings.

His appointment is until 31st March 2015. UKM is not new to him, as Prof Zawawi was the Dean of the Faculty of Engineering in 1989 and Deputy Vice Chancellor (Development) in 1991.

Prof Zawawi gained both his first Degree and Doctorate in Electronics Engineering from Leeds University, England in 1969 and 1972 respectively.

He was one of the founding members of the Malaysian Institute of Microelectronics Systems Berhad (MIMOS) as its Deputy Director General from 1985 when MIMOS introduced Malaysia to the world wide web by managing the RangKom project in 1987. At that time internet access was available only to some selected groups of people in the country.

It was only in 1992 that Malaysians were generally connected to the virtual world through Jaring set up by MIMOS.

The new Chairman was today given a briefing on UKM by its Vice Chancellor, Prof Tan Sri Dato' Wira Dr Sharifah Hapsah Syed Hasan Shahabudin and the four Deputy Vice Chancellors on their portfolios at the chancellery here.

Prof Zawawi said his presence in UKM is not to micro manage but to contribute his experience gathered from working in both the public and private sectors.

He said that there should not be a communication gap between the leader and the people who matters in an organisation. A high performing organisation needed to start with a clear vision which must then be communicated to inspire the workforce.

Prof Sharifah Hapsah in her briefing said that a University is no longer just a warehouse of knowledge but is now an integral part of the economic development of a nation. They have now to work with the government, the private sector and venture capitalists to achieve the nation's goals.

One of the challenges that UKM faces is to produce graduates who are innovative and have entrepreneurial desires who can thus create their own jobs instead of merely seeking employment, she said

Heads of Departments, Directors of Institutes and UKM academicians attended the briefing.