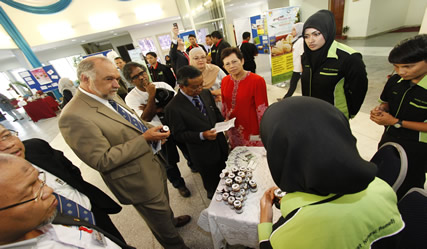 By Saiful Bahri Kamaruddin
Pix by Izwan Azman

BANGI, 1 June 2012 –The National University of Malaysia (UKM) mass simulated business programme experiment for all first year students which ended on Wednesday have exceeded all expectations.

Stevens Institute of Technology (SIT) of New Jersey, the American university that is partnering UKM to implement the programme said the students have done very well even by US standards.

SIT's Associate Provost for Academic Entrepreneurship, Christos Christodoulatos said that the 3,000 students who took part in the programme were able to handle the various business environment simulations.

He was impressed with their level of technical savvyness as well as human skills when setting up their start-up enterprises expressing the hope that the undergraduates would be able to stick to the option of doing the course as they progress to the second and third years.

Dubbed the Entrepreneurship and Innovation Carnival, it offered first year students the opportunity to put into practice simple business transactions, with booths manned mainly by them selling anything from food to cleaning services.  

He observed that the students were quick to transition between using powerpoint presentations to web-based simulations to verbal submissions, in sessions held at the Dewan Canselor Tun Abdul Razak (Dektar).

Even if the students do not want to become entrepreneurs later, they could still retain the knowledge for use during tough times.

Nevertheless, the corporate leader and professor did find weaknesses, such as the inherent background of most of the partcipants.

The most obvious, he explained, was the conservative culture of the youths which initially made them sceptical of such a novel experience.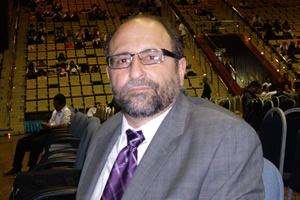 He said they also started out rather hesitant and were shy perhaps because of the culture of being safe and slow to try new things.

However with some cajolling they began to get into stride and immersed themselves in the programme on the final day, even if it was just a simulation.

The programme acually started four months earlier in the first semester, in the classroom, which was a conventional situation which the students were familiar with.

The carnival was formally closed by UKM Vice-Chancellor, Prof Tan Sri Dato' Wira Dr Sharifah Hapsah Syed Hasan Shahabudin last Wednesday. It was launched by Minister of Higher Education, Datuk Seri Mohd Khaled Nordin on May 25.

However just a week before the conclusion of the carnival a culture shock or sorts occurred. The students were placed in a simulated environment that tested their skills in putting theory to practice for start-up enterprises.

And that was when the youngsters came into their own despite the initial doubts.

SIT and UKM's Centre For Entrepreneurship and SME Development (CESMED) organised a total of 20 units of academic courses for the freshman students from all faculties. The programme is now mandatory for all first-year students.

This is to allow them to feel what it is like to be in a business environment although not all would want to take the plunge after they graduated.

Teams of students competed against one another in various categories in modules such as leadership, teamwork,  financing, marketing, understanding customers' needs and pitching.

As an example the carnival featured medical students competing with undergraduates from the Islamic Studies Faculty, thus allowing a wide range of situations to be experimented with between different faculties.

In other scenarios, Engineering students would pitt their skills in facing off with Literature scholars to see who can best market their products or services.

All the participants were from UKM except for a team of medical students from the Alliance Medical College.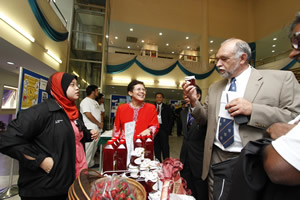 One of the highlights of the carnival; the 'Elevator Pitch' a 30 sec to 2 minute verbal marketing presentation in which anything that each team wants to tell must be brought out in a nutshell. It is so called because of the time taken going up or down in a lift in which a sales pitch has to be made to a potential investor, before all the passengers emerge and the salesman might lose him.

Most of the Elevator Pitch sessions were done in English, but participants were allowed to speak Malay if they have no other choice, something that SIT hopes would eventually change.

Events organised in the Carnival included explorace, teasure hunt, futsal game competition, funny photo contest, talent singing contest and the sharing of experiences of setting up business by senior start-up students.