By Saiful Bahri Kamaruddin
Pix Ra'ai Othman,  UKM Publishers
BANGI, 15 March 2013 – Any attempt to standardise the grammar for Bahasa Melayu must be made easy for the people to accept.
A Professor of Linguistics at The National University of Malaysia (UKM), Professor Dr Zaharani Ahmad from the School of Languages ​​and Linguistics, Faculty of Humanities and Social Sciences (FSSK), said the people who use Bahasa are the ones who ultimately determine how the grammar, style of speech and writing of the language evolves.
Delivering his inaugural Lecture on Practical Grammar in the Malay Language, Prof Zaharani said language belongs to the community and as such any language strategy would eventually have to take into account the speech or communication of that society.
Any grammar formulated by planners should be compatible with the grammar spoken everyday by the ordinary people.
One of the basic tenets of Malay as a natural language is that it is not uniform. There are many varieties of the language. A variety generally accepted as standard Malay is the one used in formal education and in official events, such as speeches, conferences, debates as well as in the mass media.
Like any other languages and its varieties, the standard variant is also not uniform but is characterised by diverse structures and constructions. Structural diversity in a language more often turns out to be problematic, particularly in the context of establishing a normative grammar that serves as a reference for the language community.
He said when compatibility between language planners and society is achieved, the issue of conflict and contradiction involving the linguistic aspects of Malay in itself does not arise any more.
Any attempt to design a language, whether by the government or other authorities, requires several steps and strategies to be implemented in order to socialise and cultivate practical grammar. He proposed several ways:
1.  Use the malay language at all levels of formal education.
2.  Disseminate information through the mass media both print and electronics.
3.  Promote and enhance the language's use in both the public and privates sectors.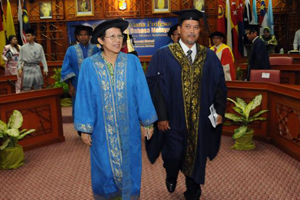 He said there seems to be differences of opinion between the experts in terms of language grammar. But in fact they do not contradict each other or are in conflict. Their only difference is how they see the structure of a sentence.
Prof Zaharani believes sentences can have the same meaning, but nonetheless correct despite variations in grammatical structures.
He, however, found a lot of mistakes in texts written by students, government officials and even by teachers and university lecturers. This resulted in declining student performance whenever there were problematic questions in the Malay language paper in examinations at secondary school level.
Link Between Problematic Questions and Student Performance, PMR
| | | | |
| --- | --- | --- | --- |
| Year | 1999 | 2000 | 2001 |
| Problematic Questions % | 23.3 | 33.3 | 30 |
| Students Who Excelled % | 40.8 | 21.1 | 21.9 |
Prof Zaharani quoted the late Malay language scholar Za'ba, who himself acknowledged that the ordinary people are the ones who decide on what direction Bahasa Melayu develops, by saying:
"There are many common errors, but if the Malays already agree and accept them, ultimately they become correct. Nobody can stop it although linguists may not like it."
Prof Zaharani graduated from Universiti Malaya (UM) in 1983 with a Bachelor's degree in Literature (Bahasa Melayu). He began his academic career as a tutor in Linguistics at UKM.
He was later appointed lecturer in 1988 after obtaining a Masters degree (Linguistics) from the University of Hawaii, USA. He received his PhD from the University of Essex, Britain in 2001 and was appointed Professor of Malay phonology and morphology in 2006.