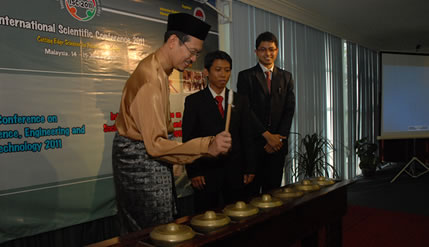 By Abdul Ghani Nasir
Pix by Saliman Leman

BANGI, 17 January, 2010 – UKM paid tribute to its Indonesian students who have been active in various activities thereby becoming examplary ambassadors of their country while studying and staying in Malaysia.

Deputy Vice Chancellor (Academic and International Affairs) Prof. Dr Dato' Ir Hasan Basri praised  the Indonesian Students' Association of UKM (PPI) for organising the International Scientific Conference (ISC) 2011 and the PPI Annual Conference.

Opening the ISC at Danau Golf Club here last Friday, Prof Hasan congratulated PPI and the conference committee for organising the academic event, which had attracted  students, scholars and intellectuals not only from Malaysia and Indonesia but also from many other countries.

The conference had proven that PPI was capable of doing more than what an ordinary students association could usually do saying that UKM's academic goal is to produce graduates with strong leadership qualities who are confident of themselves and having strong sense of personal integrity and ethics.

"We always stand by our students and guide them to achieve their academic goals, while helping them build their leadership qualities for a better future.

"As potential leaders in their society and country, we certainly look forward to seeing them in their national as well as international stage, after they graduated from UKM," he said.

The Indonesian Ambassador to Malaysia,  Tan Sri Prof. Drs. Da'i Bahtiar gave a keynote address entitled: Dynamic Asia: The Roles of Indonesia in the Development of Asian Countries.

The Deputy Director of the Centre for Graduate Management, Asso Prof. Dr. Marlyna Maros was also present.