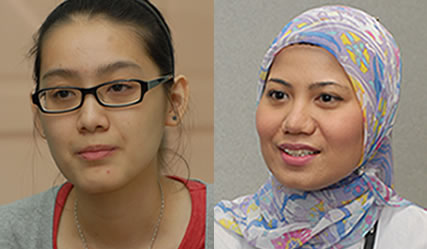 By Nurul Haziqah Abdul Halim, Limkokwing University Industrial Trainee & Siti Madihah Ahmad Mahir, UiTM Industrial Trainee 
Pix by Saliman Leman

BANGI, 26 January, 2011 – A kampung girl and a small town girl with Universiti Kebangsaan Malaysia (UKM) who excelled in their law studies, won the prestigious and coveted Tun Suffian Foundation scholarship awards.

Azlin Sabtu, a First Class Honours Law graduate of UKM received the Tun Suffian Scholarship Masters of Law Programme at the University of Cambridge while Tan Sze Pei, is doing her Third Year law studies at UKM.

Azlin born in Kampung (village) Kerubong Malacca where she spent her childhood under the care of her grandmother, while Tan hails from Alor Star, Kedah.

Azlin, 30, is presently a Senior Federal Counsel at the Attorney-General's Chambers  after she had successfully completed her Masters programme at  Cambridge University in the United Kingdom, late last year.

She graduated from UKM in 2003 with a First Class Honours in law and was among  10 law graduates selected to do their chambering at the A-G's office.

Born the third among four siblings to an engineer and a clerk who had both retired, Azlin completed her primary schooling at Sri Subang Jaya and her secondary schooling at Sekolah Menengah Seri Puteri, where she was also the head girl.

She was very active in extra-curricula activities during her school and university days where she was elected president of the UKM debating club and vice president of the UKM Law Faculty Association.

She also represented the country in the Students in Free Entreprise (SIFE) World Competition as well as the Asian Law Students' Association (ALSA) Debate, apart from representing UKM in Basketball and Handball.

Azlin in her acceptance speech said that her greatest push towards applying for her Masters at Cambridge was her eagerness to follow in the footsteps of her idol, the late Tun Suffian. She said Tun Suffian, as a very prominent figure in the judicial and legal fraternity, had always been a guiding star in her life.

"Indeed, the day I was successfully admitted to the University of Cambridge, was one of the happiest days of my life. And now being acknowlegded by the Foundation established in commemoration of the person whom I always looked up to, is the day I shall always remember for the rest of my life," she said.

In an interview at her office in Putrajaya,  she said "I've always felt a sense of attachment to this great man. He has always been a part of my life having followed his life through reading his biography.

"Tun Suffian was the son of a poor Ustaz and yet he was the first Malay to be awarded a King's Scholarship, and during that time, it was extremely rare and difficult for such a thing to happen and he bettered that achievement by making it to Cambridge."

Azlin said that, she was inspired by his life, from his humble beginnings in living in a big family in a village, his perseverance through his many struggles, his choice of doing Law and receiving the scholarship to do so and how he had taken all the opportunities that had passed through his life in a serious manner and executed them successfully.

Tun Suffian, who was Lord President and Chief Justice of Malaya in his illustrious career, is still regarded as a paragon in the judicial and legal fraternity in the country. The foundation was set up by his admirers to award scholarships to law students, based on merits.

Commenting on her law degree in UKM, Azlin said the programme was unique as it taught students both the Civil and Islamic Syariah Law.

"During my time I had to learn Islamic Criminal Law and Islamic Family Law, and it was made a core subject for all UKM Law students to learn. No other university had that requirement of a core subject except for UKM and the International Islamic University (UIA)," she said.

Thus UKM law graduates were more prepared for the legal profesion of today, she added.

"But there is still much to improve, during my time there were no practical classes but now they have it. So these practical classes will allow the students to be better prepared for the real world of legal battles than I was," she said on the improvements of the Law degree modules of UKM.

Commenting on UKM law graduates she recalled how law students from other universities had looked down on them as they studied in Malay and not English at the UKM. "That is their problem, their perception of UKM students was low thinking that none of us can converse in English well or even properly. But they are all wrong, we can speak English and most of UKM graduates do their post graduate studies abroad and almost all go to the United Kingdom (UK)," she said.

In her acceptance speech, she said, "To my fellow recipients, I wish you all the best in your studies and if anyone of you have plans to pursue postgraduates studies in the future, do not feel intimidated, or hesitant or feel fearful to apply to the best Universities like Cambridge or any other of the top universities. We are as good as any Oxford, Harvard or Stamford graduates. I am a local graduate like all of you, I did my LLB in UKM, and I am proud of it."

Equally estatic over the award is Tan Sze Pei, who regarded herself as a small town girl who can now call herself a Tun Suffian scholar.

"A Tun Suffian scholar will find it easier when applying for work. It is a very prestigious scholarship because Tun Suffian is well known in Malaysia," the 23-year-old said.

She was surprised but very grateful to have won the scholarship as she submitted her application form quite late last Aug after discovering about it in the internet. Not many people knew about the awards as it was the first time the scholarship was awarded to LLB students.

She was notified about her success in getting the scholarship in late November and the award ceremony was held in Universiti Malaya (UM) last  Jan13th.

The youngest of three siblings, Tan had studied at the St Nicholas Convent in Alor Star, where she was born to an industrial relations executive and his teacher  wife.  A science student in her secondary school days, she later opted to read law at UKM.

In her acceptance speech Tan said: "Law has always fascinated me. I was a science student when I was in my secondary school and I switched to art stream in upper secondary level hoping to read law in one of the public universities. My hard work paid off when I was accepted by UKM," she said.

She said the scholarship will spur her to greater heights vowing to emulate the values and aspirations of the Foundation.

"I am very proud and humble to be offered this scholarship. I am aware that now I have certain obligations and responsibilities which I am determined to comply to the best of my abilities. I hope that I will be able to make all of you proud of me one day," she said at the ceremony. Present were Chairman of the Tun Suffian Foundation, Tun Mohamed Dzaiddin Haji Abdullah, and the Founder, Tunku Dato' Dr Hajah Sofiah Jewa.

As the Tun Suffian Foundation Scholarship was awarded based on merit and financial needs, Tan had managed to see through some criteria that may have helped her earn the prestigious title including being active in co-curricular activities.

She is quite active in the faculty holding several leadership positions. She is also a committee member in the national board of Asian Law Students Association (ALSA.

She will be representing UKM in the World Youth Leaders' Forum, to be held from 20 to 22 July 2011 in Hong Kong.

Academically, Tan managed to maintain her examination results above GPA 3.50 every semester, but she was being humble with her grades.

"I wouldn't say that my examination results were unexpectedly good. As you know, when you study law, the grades wouldn't be very high like students from other courses, who may be getting GPA 3.90 or 4.00. It wouldn't be easy in our faculty," said Tan.

After finishing her degree, Tan plans to either practise or continue her Masters in Cambridge.

Other recipients of the Tun Suffian Foundation Award are:

The Cambridge Tun Suffian Scholarship - Masters of Law Programme at the University of Cambridge, United Kingdom:
Low Weng Tchung 2007-2008
Azlin binti Sabtu 2009-2010


Tun Suffian PhD Scholars:
Abdi Syahrial Harahap (Universiti Malaya)
Mamuti Abudureyimu (International Islamic University of Malaysia)
Tun Suffian LLB Degree Scholars
Tan Sze Pei (Universiti Kebangsaan Malaysia)
Ainol Nadia binti Abdul Aziz  (International Islamic University of Malaysia)
Daniel Ariff Tung bin Adib Vincent Tung (Universiti Malaya)
Darnisa bt Abdul Jalil (Universiti Malaya)
Gan Ming Chiek (Universiti Malaya)
Lee Long Sern (Universiti Malaya)
Mohd Zharif Shafiq bin Badrul Hisam (Universiti Teknologi Mara)
Nicholas Poon Qianfan (Universiti Malaya)
Siti Farishah bt Razlan (Universiti Malaya)
Teh Teong Phei (Universiti Malaya)
Yong Ii Yang (Universiti Malaya)