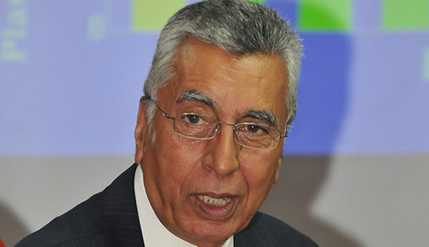 By Shahfizal Musa
Pix by Mohd Ikhwan Hashim

KUALA LUMPUR,  20 April, 2011 - Stress is necessary to function in a normal life, but excessive stress can be damaging to a person's health, said the President of the Heads of University Centres of Biomedical Science (HUCBMS) in the United Kingdom.

Prof Hardial S. Chowdrey who is also a member of the British National Council of the Institute of Biomedical Science said this in a talk Do we need Stress to Survive at the Faculty of Health Sciences here today where he explained the workings of stress in great detail.

He highlighted the mechanism behind hormonal response to chronic stress from diseases such as rheumatoid arthritis and depression.

The presence of stress only aggravates these diseases as this would cause more stress. It is like a vicious cycle that can drag a person to unnecessary complications.

He then illustrated the brain molecular mechanism for regulating hypothalamic pituitary adrenal axis (HPA). This is the body system of dealing with stress. It perceives stress as an imminent threat regardless of the magnitude of the problem.  

The HPA will trigger the adrenal glands which release cortisol that prompts the "fight or flight" mode.

Basically the human body reacts to stress in ways meant to protect a person against threats from predators. Though such threats are rare today, the human body still treat stress in the same way.

He demonstrated the role of cortisal in controlling these pathological conditions. When facing multiple demands each day, such as a huge workload, making ends meet or just making it through the morning traffic, the body treats these minor hassles as threats from predators.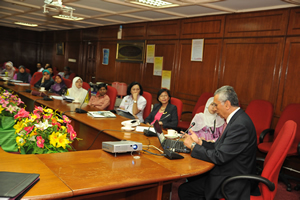 However, when the stress factor is no longer present, adrenaline and cortisal level will drop bringing the person back to equilibrium

The body's stress-response system which is self-regulating will go hay wire when there are too many competing demands which it sees as threats. The fight-or-flight reaction will be constantly on leaving the person to constantly feel stressed, tensed and on edge,

The less control a person have over potentially stress-inducing events and the more uncertainty they create, the more likely he will feel stressed. Even the typical day to day demands of living can contribute to the body's stress response.

Prof Chowdrey however, stressed that despite the harmful effects of stress it is still needed for the body to survive and function. The kind of stress that is needed to survive today is related with racing against time rather than battling with a predator.

A writer meeting his deadline and a doctors rushing to the emergency room to save a patient, instead of walking calmly are the kind of stress which is needed to get the job done and save lives.
Associate Professor Dr Nor Fadilah Binti Rajab, Head of the Medical Bioscience Department, lecturers and students from the Faculty of Health Sciences attended the talk.