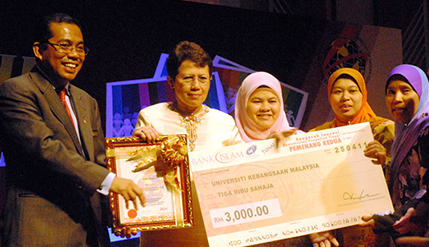 By Shahfizal Musa
Pix by Saliman Leman

PUTRAJAYA,  25 April, 2011- A UKM entry won second place in the Ministry of  Higher Education (MOHE) Innovation Award for its innovation of a device that can detect electrical charge.

The entry from Universiti Pendidikan Sultan Idris was judged the winner for its entry on the innovation of Online Interview Score Sheet (OISS) while the 3rd place went to Politeknik Kota Baharu for its online course participants information system (CAKUR).

The awards were presented By Minister of Higher Education Dato' Seri Mohamed Khaled Bin Nordin in conjunction with the launching of  MOHE Innovation Implementation Plan at the Putrajaya International Convention Centre (PICC).

Khaled said the award was meant to nurture the value of innovations and quality among institutions of higher learning.

"Innovation has been made one of the main components in efforts by the government to transform the country from its current middle income status to a high income country," he said .

As many as 47 institutions of higher learning including universities, institutes and polytechnics  as well as government departments and agencies submitted their entries  for the award.

UKM's innovation known as Charge Continuity Detector  (CCD) to detect electrical flows was a product developed by The Department Electrical, Electronic and Systems Engineering from the Faculty of Engineering and Built Environment.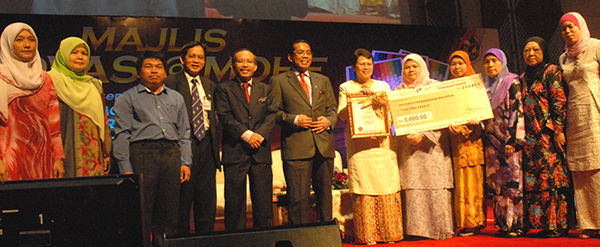 With the CCD any discontinuity of electrical flow from a cable which supply electricity to equipments in a laboratory can be easily detected and the faulty cable replaced almost immediately.

UKM Chancellor Prof Tan Sri Dato' Wira Sharifah Hapsah Syed Hasan Shahabudin, Vice Chancellors of Universities, academicians and students attended the ceremony.

The UKM winning team consists of :
Advisors 
1.       Prof. Dr. Aini Hussain
2.       Prof. Madya Dr. Hafizah Husain  
Facilitators 
1.       Encik Hilmi Sanusi
2.       Puan Farizah Ansarudin
3.       Cik Aida Baharuddin  
Members
1.       Cik Nor Jaziha Mat Jalil
2.       Puan Siti Zaida Hj. Md Yasir
3.       Puan Ainun Jariah Mohamed
4.       Puan Faridah Ahmad
5.       Puan Rosiah Basir
6.       Encik Mohd Nor Azman Jamaluddin