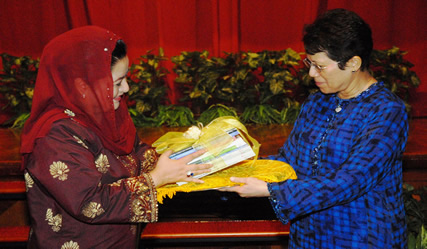 By Shahfizal Musa
Pics by Saliman Leman

BANGI, 11 May, 2011 – The new media including the social media have their place in society but the internet had also given everyone a place to vent their anger based on distorted perceived injustice sometimes with no element of truth at all.

The Sultanah of Johore Raja Zarith Sofiah ibni Almarhum Sultan Idris Shah said such distortions could lead to conflicts fuelled by perception of good and evil instead of hard concrete facts.

"Instead of seeing such beginnings of conflict happen in our country, which may lead to chaos and an uncertain future of our children, surely it would be preferable for us to sit down face to face and agree to disagree".

"Listening to others instead of blocking what others may want to say to us, is the key towards a peaceful world," she said.

She was giving a lecture in conjunction with her appointment as the Royal Fellow of UKM at the Equatorial Hotel here today. The letter of appointment was handed over to her by the Vice Chancellor Prof Tan Sri Dato' Wira Sharifah Hapsah Syed Hasan Shahabudin.

Her lecture was also to launch the International Conference SOLLS. INTEC 2011 on Language, Culture and Literacy: Engaging Diversity in Challenging Times organised by the School of Language and Linguistics Studies of the Faculty of Social Sciences and Humanities.

Technology, she said, has enabled humans to easily communicate with one another and at a faster pace but has not been able make them listen to those whom they disagree with.

Technology has thus not been able to change people from hearing only their voices and ignoring those who dissent. "What is apparent is that we all wish to be heard but we may not be so keen to listen."

Thus though technology has made communication possible beyond the restrictions of borders and time, we have not come closer to understanding each other, or wanting to do so, she said.

Raja Zarith Sofiah alluded to headlines and articles in the mainstream media, as well as responses of readers of blogs and news portal which had at times become 'worryingly provocative'.

Earlier Prof Sharifah Hapsah said that learning to understand cultures and religions other than our own is a necessity in an increasingly globalised world.

She likened cultural diversity with biodiversity which support each other and co-exist in harmony.

Speakers from 10 countries and the Dean of Faculties and other senior officials of UKM attended the ceremony.