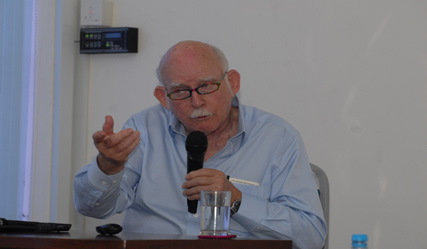 By Shahfizal Musa
Pics by Saliman Leman

BANGI, 12 Met, 2011 – Though Malaysia is still regarded by many as a rural country, the peninsula part is already an urban nation, an expert on urban development studies said today.

Emeritus Prof Terry McGee from the Asian Research and Geography Department of the University British Columbia, Canada in a talk on 'Malaysia Urban Future: Challenges to Building an Urban Nation' said Peninsular Malaysia has already reached the level of an Urban Nation last year.

Urbanisation refers not only to big metropolitan cities but also to an area which is densely populated with vast human features such as buildings compared to its surrounding areas, he said in the talk at the Institute of Ethnic Studies UKM (KITA) here.

And interestingly, he contended that the largest group of the urban nation in the peninsula are the Malays. This is significant because urban areas play an important role in determining the national identity of a country.

Unlike other western researchers who gave their views on Malaysia from afar, Prof McGee gave his opinion based on his research in the peninsula from the 1960s.

He even lived with the people in Kampung Baru until he had to be taken out to the hospital on a stretcher due to an appendix burst.

He recounted that it was the policy of the British colonial power that had resulted in the marginalisaton of the Malays by keeping them in the rural areas. It took about 30 years after independence to reverse the impact of that policy and subsequently the Malays were now urbanised.

That situation, he said, was only in geographical representation and did not reflect the Bumiputera's economic situation.

He said the contrast between rural and urban areas was not something that could be determined easily as in black and white. While there are clear indicators including income but income from the urban population had also penetrated into the rural areas. Huge amouns of money were also being sent to the rural areas by children in the cities to their parents in the villages.

In addition there are also investments for infrastructure development like the building of roads to the rural areas, with the intention of sustaining the urban areas. For example food from the rural areas needed to be sent to the urban areas. 

Prof McGee also addressed the question of Food Security, especially when the rural areas are urbanised resulting in agriculture being abandoned in favour of jobs in the service and manufacturing sectors.

He said Malaysia has addressed such issues with the Northern Economic Corridor where areas are allocated as food zones.

The talk was attended Director of (KITA) Prof Datuk Dr Shamsul Amri and Prof Emeritus Dato' Dr Abdul Samad Hadi, Principal Fellow of the Institute for Environment and Development (LESTARI).