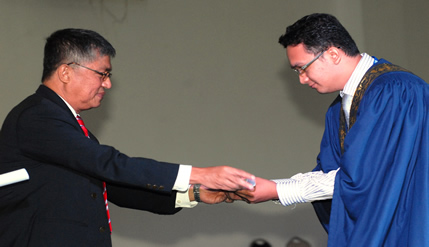 By Shahfizal Musa
Pics by Saliman Leman

BANGI, 25 May, 2011 – Over 300 recently graduated UKM students today completed their employability enhancement skills programme aimed at equipping them with qualities sought for by employers.

'The Graduate Aptitude Programme' (GAP) organised by the university in collaboration with the Ministry of Higher Education and Scicom Academy Sdn. Bhd is to also equip them with confidence, leadership and other soft skills to enable them to market themselves to employers.

Manager of UKM's Industry Liason Office Mohd Rusland Abu Samah said the comprehensive employability programme which began on 9th May provided the students with 70 hours of training including 20 hours of English lessons focussing on qualities that employers look for.

Deputy Vice Chancellor (Industry & Community Partnership) Prof Dr Saran Kaur Gill, when closing the programme said the students needed to be provided with the skills and told what to expect when they enter into the employment world. Her speech was read by Rusland.

The students appear poised and brimmed with confidence ready to take up whatever challenges they face testifying to the effectiveness of the programme.

Haziman Bin Abdul Aziz, a graduate in Industrial Computing said: "GAP was really a transformation for me. Before I joined GAP I was very shy and reclusive but now I am confident and not afraid to speak in front of an audience and my presentation skills have improved tremendously".

Another student Harsuzilawati Binti Muhammed, a graduate in Science Development said: "GAP has improved my presentation skills and enabled me to communicate more effectively. It also helped to develop my leadership skills as well as the ability to work in team."

UKM is one of the universities selected to receive the RM1 million fund to conduct the course under the Ministry's scheme to improve employability of graduates.

A recruitment session where the participants were interviewed by a number of employers including a few Multinational companies followed after the participants received their certificates.

Chief Executive Officer of Scicom Academy Sdn Bhd, Jude Mohan, Deans and other senior staff of UKM attended the ceremony.