By Shahfizal Musa
Pix by Saliman Leman

MELAKA, 29 June, 2011 - UKM  fuel efficient car won second place in the design category of the Perodua Eco Challenge Race 2011 at the Melaka International Motorsport Circuit here last Saturday organised by Perusahaan Automobil Kedua.

The UKM sporty looking car was the work of 34 members made up of 9 lecturers, one Science Officer, seven technicians and 17 students from the Automative Research Centre of The Faculty of Engineering and Built Environment.

The team was led by Dr Wan Mohd Faizal Wan Mahmod from the Centre, Muhammad Farizal Che Sabri representing the students and Mohammad Asyran Che Laidin as the driver.

Unlike conventional race, where a car with the greatest speed and first to cross the finishing line is crowned the winner, in this race the ultimate winner is the car that finished last.

In this Eco-challenge, the car that could go the longest distance with half a litre of petrol wins. All twelve cars were required to keep running on the track until they ran out of fuel.

Each team was given a 660 cc transmission engine, RM10,000 and half a litre of petrol to build the most fuel efficient car. 

A total of 12 higher learning institutions took part, made up of teams from UKM, Universiti Sains Malaysia (USM), Universiti Tenaga Nasional (UNITEN), Universiti Teknologi Mara (UiTM), Universiti Kuala Lumpur (UNIKL), Politeknik Sultan Azlan Shah (PSA), Universiti Malaysia Pahang (UMP), Universiti Teknologi Petronas (UTP), Universiti Industri Selangor (UNISEL), Politeknik Ungku Omar (PUO), Malaysia Spanish Institute (MSI), and Politeknik Port Dickson (PPD).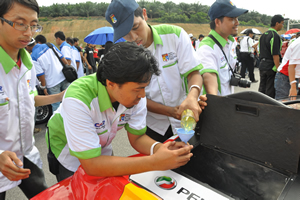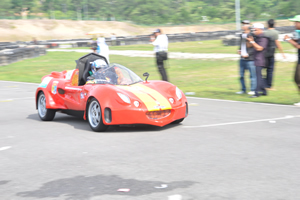 Melaka Chief Minister, Datuk Mohd Ali Rustam who officiated the function said the race was a platform for students to display their talents in real world application and hoped such programme could be replicated by other corporate bodies as part of their Social Responsibility Programme.

Perodua Managing Director Datuk Aminar Rashid Salleh said the Eco Challenge was an initiative for the higher institutions to come up with a fuel efficient car which is more environmentally friendly in the light of the alarming global warming which is escalating.

He said apart from Perodua's commitment to the environment, the race was also meant to acquaint the students with working environment so as to equip them with the working skills needed in the working world.

The car from Politeknik Ungku Omar whicfh covered a distance of 24.7km with the half litre of fuel won the challenge. This is followed by UNISEL with 19.1 Km and USM with 17.4 km. The UKM car only managed to cover 7.9km on the half a litre of petrol taking the eleventh placing.