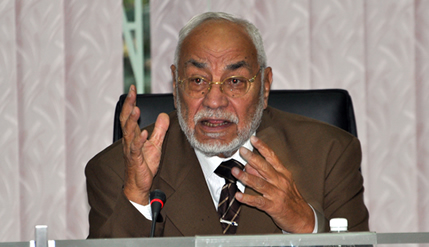 By Abdul Ghani Nasir 
Pix by Mohd Hairul Azmi

BANGI, 2 Nov. 2011 – One of the political parties which emerged after the January 25 Egyptian peoples' revolution which toppled the iron fisted government of Hosni Mubarak, hopes to legislate a new constitution that safeguards freedom and guarantees a just society in the country.

The spiritual leader of The Freedom and Justice Party backed by former members of the Muslim Brotherhood (Ikhwanul Muslimin), Dr Muhammad Mahdi Akif, said members of the party who took an active part during the uprising hope to get more youths in its struggle to develop a new strong nation.

Dr Mahdi, 83, who is still sprightly and looks strong and healthy joined the Muslim Brotherhood when he was 12 and later languished in prison for over 20 years from 1954 and again for another three years in 1974.

His sufferings and the hard life that he went through had strengthened his will to continue with his struggles to fight for justice.

Dr Mahdi revealed that he once wrote a letter to Mubarak telling him that the country was heading for a revolution if government tyranny continues.

A few months later, the people of Egypt revolted against the government which had curtailed their freedom for so long.

And the people got a shock when they found that the country's treasury had been cleaned out after Mubarak was toppled.

Dr Mahdi  delivering his talk on "Egyptian Revolution – Views from Within" in Arabic here yesterday, said the party is also making preparations for the general elections scheduled to be held this December.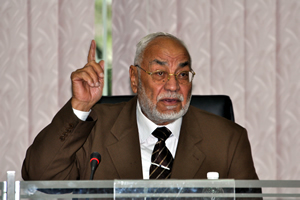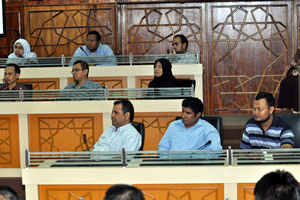 "After almost 30 years under the unjust government of President Hosni Mubarak, we hope to put up a new constitution for Egypt which gives priority to the peoples' interest.

"We found that many leaders and followers of Salafi (better known as Wahabi) would like to join our party and take part in the elections.

"They are all welcomed since we take in people who abide by our rules and constitution and support our struggles," said Dr Mahdi at the talk organised by the Institute of West Asian Studies and the West Asian Group.

When asked about the party's plan for the country especially on issues affecting Egypt's relationships with Israel and its policy towards Palestine, Dr Mahdi said if it wins the elections and formed the new government, the people will be asked if they want to support  the peace move with Tel Aviv as what was done by Mubarak.