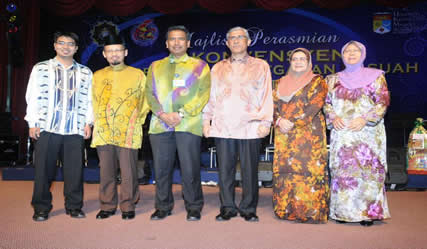 By Shahfizal Musa
Pix  Abd Raai Osman

BANGI, 19 Nov 2011- Students were urged to be consistent in their fight against corruption even after graduating and appointed to positions of reponsibility with powers to make decisions.

Chief Commissioner of the Malaysian Anti-Corruption Commission (MACC), Dato' Sri Haji Abu Kassim Mohamed recollected how during his student days they were very vocal in speaking out against corruption.

Unfortunately there were those once gaining positions of authority were themselves involved in corrupt practices. This should not be the case, as the fight against corruption must be consistent, he said.

He was opening a convention of the Anti Corruption Secretariat jointly organised by MACC and the National University of Malaysia (UKM) here today. Representastives of students from 20 IPTs attended the two day convention.

The Anti Corruption Secretariat (SEC) is an entity set up in Higher Institutions of Learning (IPT) aimed at fostering anti corruption values among students through various integrity programmes.

He said there was an increase in awareness about anti-corruption after the establishment of the SEC in IPT. It was found that 73.2% students were willing to report corrupt practices compared to only 45 % before the establishment of the Secretariat.



Deputy Vice Chancellor (Students and Alumni Relations), Prof Dr Ir Othman A. Karim said The Universities and University Colleges Act 1997 liberates students from the narrow confinement of any political parties.

Students can be involved in the Anti Corruption Secretariat as the Act does not limit them from acting without fear or favour, he said.

Prof Othman said UKM is fully committed to play its role in eradicating corruption, a cancerous phenomena which can rob the nation of its wealth. UKM has for the past four years been offering the masters' programme in Anti-Corruption.

Deputy Chief Commissioner (Prevention) MACC, Dato' Sutinah Sutan and Secretary of the Human Resource Management Division of the Ministry of Higher Education, Ku Maharum Ku Yaacob were present at the ceremony.