By S. Sivaselvam
Pix by Anthony Ulek Jeti
KUALA LUMPUR, 24 Nov – UKM will continue to bring benefits to the community despite its drive towards internationalisation of its activities, says Vice-Chancellor Prof Tan Sri Dato' Wira Dr. Sharifah Hapsah Syed Hasan Shahabudin.
Its move to instill entrepreneurship and innovation throughout its curriculum do not also mean that UKM should be seen solely as an economic producer of knowledge, innovation, technology and skilled workers.
"A purely market-driven system may inadvertently sideline intangibles such as ethics and values, beliefs, spirituality, happiness, tolerance, mutual respect, sharing, caring and loving," she said.
"In line with the aspirations of the New Economic Model, UKM ensures that social sensitivity and communal engagement to responsibly address community problems remain a high priority.
"Universities must continue to push the frontiers of understanding by producing knowledge for its enlightenment and empowering effects while serving the utilitarian role in the culture of enterprise."
Tan Sri Sharifah Hapsah was speaking on the Malaysian perspective of universities and internationalisation at the four-day International Leadership Conference on Managing Global Universities here organised by the University of Nottingham Malaysia Campus here today.
Asked by a participant – one of the 42 senior managers and leaders in higher education from Britain, Malaysia, Singapore, Belgium and the US – whether community engagement is in competition with UKM's entrepreneurship and innovation agenda, she stressed that this isn't the case as its ventures are social enterprises – while they are market-driven and commercially managed, the products are aimed at improving the lot of the people. In addition they create jobs, she said.
A case in point: While one of UKM's start-up companies focuses on commercialising the findings of research on solar energy, villagers are recruited to assemble solar panels as a cottage industry.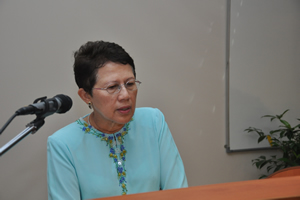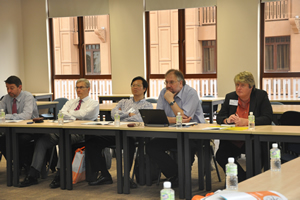 The Vice-Chancellor argued that in terms of internationalisation at the institutional level, the approach should be an integration of international perspectives with the internal dynamics of the core missions of the university.
"This entails having an international dimension to teaching and learning, research, innovation and commercialisation, community and industry engagement as well as in areas such as governance, leadership and talent management," she said.
Ultimately, Prof Sharifah Hapsah said, internationalisation should enable higher education institutions to participate, contribute, respond and adapt appropriately to an increasingly diverse, globally-focused and ever-changing external environment.
"In the process, they should achieve excellence and good reputation," she said.
She reiterated that internationalisation and privatisation have been important strategies for Malaysia to grow the higher education sector and attract students through the regional education hub in a global education network concept.
She felt that the momentum can be sustained under the government's Economic Transformation Plan by capitalising on the opportunities for improvement.
Noting that community engagement and knowledge transfer can be internationalised, she gave as an example UKM's collaboration with the Langkawi Development Authority in getting Langkawi recognised as the 52nd World Geopark in the UNESCO Global Network of Geoparks in June 2007.
"This was the result of 25 years of research and the geopark status brings with it sustainable ecotourism and economic opportunities for the local community," she added.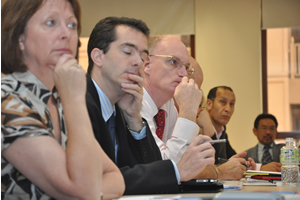 Prof Sharifah Hapsah said that internationalisation involves many stakeholders in changing the internal dynamics of the core missions of teaching and learning, research and innovation, community and industry engagement as well as commercialisation. It is an ongoing, future-oriented, multidimensional, interdisciplinary and leadership-driven vision.
She explained that before Malaysia embarked on an aggressive cross-border education initiative, about six percent of the tertiary students in Malaysia moved offshore and the country invested over RM2 billion a year in them in private and public funds.
However, with liberalisation and globalisation in the 1980s, cross-border education became a tradable service with a global market worth trillions of dollars. In this trade, Malaysia is a net exporter where while it spent more than 3.5 percent of its Gross National Product (GNP) on education exports, it receives only 0.5 percent in export revenue.
This imbalance became the spur for the 1996 strategy shift and mindset change - higher education was privatised and education was autonomously liberalised, the outcome being that education has become an engine of economic productivity and cross-border education proliferated, mainly driven by the private sector.
However, the change wasn't entirely driven by economic considerations to reduce capital outflow and generate revenue from foreign students; quality private and cross-border provision was seen as essential in increasing access and expanding opportunities for students' choice, particularly in a labour market where competition is based on innovation.
Among the internationalisation strategies embarked upon by the government were:
· Establishing centres in strategic countries to promote and protect the reputation of Malaysian higher education.
· Organising education fairs and promotional tours.
· Coordinating the government's immigration and visa policies with education.
· Encouraging student mobility and study abroad programmes.
· Having more academic programmes accredited by international bodies.
· Increasing joint collaborations between governments and institutions through bilateral and multilateral agreements.
· Inviting more universities of repute to set up branch campuses.
Prof Sharifah Hapsah described the outcome as phenomenal in terms of the growth of private higher education institutions, including branch campuses of foreign universities.
"More importantly, we pioneered many innovations in cross-border education such as twinning, franchise, advanced standing, distance learning and joint or double awards leading to academic, vocational and profesional qualifications," she added.
"These activities turned Malaysia into a hub of educational excellence providing quality education for local and international students."
Malaysia reduced the outflow of nearly RM29.5 billion for Malaysians studying abroad to RM7.5 billion. In 2009, there was an estimated inflow of RM1.3 billion from foreign students, increasing to RM2.6 billion in 2010. The sector contributed about RM27 billion or four percent of Gross National Income (GNI) in 2009, and this is expected to rise to RM61 billion by 2020.
The social impact was even more staggering, she said where international partnerships helped build the capacity of private colleges with some being upgraded to university colleges and full universities.
As at April 2011, there are 488 private higher education institutions comprising 436 non-university status colleges, 22 university colleges, 25 full-fledged universities and five branch campuses of foreign universities.
Together with public universities, polytechnics and community colleges, they succeeded in enrolling 17 times more students - in 2007 there were an estimated 942,200 students, about 40 percent of whom were in private institutions.
International students rose of 0.7 percent of total student population in 2007 to 3.4 percent in 2011, making Malaysia one of the emerging international providers of higher education, she said.