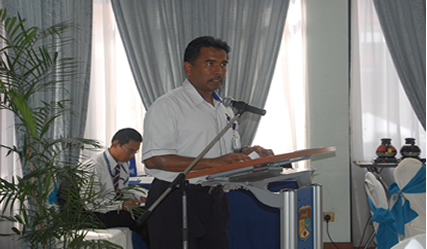 By Nastura Nasir

BANGI, 7 Dec. 2011 – The National University of Malaysia's (UKM) Zakat Fund today received a RM50,000 contribution as zakat payment from Bank Islam (M) Berhad.

A cheque for the amount was handed by the Bank's Chief Operating Officer, Datin Norasni Ayob to Deputy Vice Chancellor (Students and Alumni Affairs), Prof Ir Dr Othman A. Karim at a ceremony here.

The Fund also gave out zakat payments to two eligible receivers from UKM, Nur Rimsha Abdullah (a convert) and Jamaliah Hassan Basri (a UKM staff) at the ceremony.

It had previously distributed RM1.7 million to 2,661 eligible receivers in 2010 and RM1.3 million given out to 2,518 receipients in 2009.

Up to Oct. this year it had already distributed RM627,434 to 1,072 eligible people with another 1,000 applications being processed for payments in Oct, Nov and Dec.

Zakat contributions to UKM have increased over the years with greater awareness among UKM staff and Muslim owned corporate entities of their obligations to contribute to Zakat.

The Selangor Zakat Board have recently extended the appointment of UKM as zakat collector until Aug. 2014.