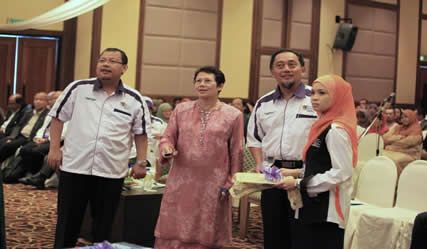 By S. Sivaselvam
Pix by Ismail Ibrahim

PENANG, 22 Dec. 2011 - In developing the ecosystem for innovation and entrepreneurship which will create new jobs, UKM is actively bridging the "stark conflict" in mindset between academe and the marketplace.

Vice-Chancellor Prof Tan Sri Dato' Wira Dr Sharifah Hapsah Syed Hasan Shahabudin noted that both parties have very different environments, values and cultures, including the unfounded concern that academic productivity is affected when commercialisation goals are pursued.

"Where we succeed to bridge the culture gap between academe and the marketplace while building on the strengths of both, we create a common ground that is fertile for launching start-ups, for growing business and industry," she said when opening the 2011 UKM Teaching and Learning Congress here with the theme "Spurring national Transformation through Teaching and Learning."

Saying that UKM is developing an innovation and entrepreneurship culture as its core academic values, Prof Sharifah Hapsah explained:

"From the start of research, we already think of possible applications of the technology. Researchers and students are assisted with patent filing, prototype development as well as business models which can attract investors.

"Companies owned by the university and investors are launched by CEOs, with benefits to participating institutes, faculty and students.

"So, in UKM we develop not only engineers, scientists and inventors but also entrepreneurs and a CEO talent pool who will harvest the value of start-ups."

UKM has developed an entrepreneurship curricular strand together with faculties and institutes which provide students with an enriched learning experience that integrate innovation with business and technology management.

Students graduate with the ability to launch companies or innovate in their firms. They will be managed by UKM's Centre for Entrepreneurship and SME (CESMED).

Starting from the first year right through the final year, students will have experience in bringing research activities from concept to product, leading to revenue generation. They will also have the opportunity to  work with SMEs and to solve real life problems by addressing market needs.

At the postgraduate level, MBA students work with researchers and their technologies to develop business ideas. The outcome is that students graduate with the ability to grow and launch companies or are competent to improve their firm's productivity through innovations.

On the research side, the focus is on creating wealth from technology by launching start-ups that will bring more lucrative revenue to the university and the nation, as well as create jobs.

For that a mindset change is needed, this time for academia as well as students.

"It is not just about taking a class and providing loans. It is a big challenge for us to develop entrepreneurs because we do not know how to measure the innate capacity for entrepreneurship.  We are experimenting and taking risks as we go along. That is part of being entrepreneurial," the Vice-Chancellor said.

To achieve mindset change, UKM has invested in capacity building initiatives, including a hands-on workshop to teach UKM researchers how to evaluate their technology and obtain business support through advising, coaching, marketing studies and introduction to potential investors or industry partners. Participants develop viable business propositions alongside the technology development work to form start-ups.

Along the way they learn many skills, such as strategic negotiations with customers, funders, collaborators and competitors. They also learn how to plan exit strategies and to create fundable investment opportunities to optimally monetise their business through a better understanding of investor perspectives. More importantly they learn how to make effective decisions in facing challenges of the entrepreneur.
Other initiatives target university leaders, such as deans and directors, as well as capacity building workshops for facilitators of the entrepreneurship module.

A recently concluded workshop was for facilitators of the module  for first year students, and soon CESMED will conduct "marketing activities" for the first year students.

Prof Sharifah Hapsah said: "This is a crucial exercise because students too must be aware and understand the innovation and entrepreneurship culture. This is a tough exercise because our students are still in the 'spoon feeding and vomiting out' mindset.

"Their aim is to get a degree which they hope will secure them a job. They don't want to be entrepreneurs because they think it's hard. Our job is actually to make them realise that the job seeking mentality may be outdated.

"Jobs are difficult to come by and the best option for them is to create their own jobs. We are here to help them prepare for this option through entrepreneurship."

Under the UKM R&D commercialisation structure, the university has so far executed 15 licences and launched 33 new technology firms which have created at least 70 jobs.

The Vice-Chancellor impressed upon the academic leaders at the congress that they are the creative force behind everything good that has happened to UKM. "If we double the number of engaged people, we will double the number of ideas and entrepreneurial energy," she contended.

She told them that UKM must not be viewed solely as an economic producer of knowledge, innovation, technology, skilled workers and job creation.

"In line with the aspirations of the New Economic Model (NEM), we must ensure that social sensitivity and communal engagement to responsibly address community problems remain a high priority," she stressed.

"We must also ensure that intangibles such as ethics and values, beliefs, spirituality, happiness, tolerance, mutual respect, sharing, caring and loving are not sidelined.

"We must continue to push the frontiers of understanding by producing knowledge for its enlightenment and empowering effects, while serving the utilitarian role in the culture of enterprise."

The Vice Chancellor who was recently appointed to a seven member panel to review the country's education system, pointed out that education is regarded as an engine of growth that delivers significant, widespread and sustained GNI (Gross National Income) impact, raising total GNI contribution by RM34 billion to reach RM61 billion by 2020.

"This goal will be mainly private sector-driven, but as a research university we do have a role to play as well – we can help widen access, raise standards on productivity and human capital development and help create the additional 536,000 jobs, mainly in professional and technical fields.

"We can also help triple foreign student enrolment to 200,000 and thus play a role in rebranding Malaysia from a stopover location for education to a major education centre of choice and a pivotal hub in the global education network.

"We can help sustain the momentum of growth by unleashing the full potential of the private education market by partnering and networking with academic institutions and industry players, both local and international, to offer discipline clusters which raise standards and expand their reach and recognition."

She said that what UKM is striving for goes beyond national goals and will have a global impact as well.

Of the global population of seven billion, three billion are employable but there are presently only 1.2 billion fulltime formal jobs, meaning a global unemployment rate of more than 50 percent.

Joblessness has become a driver of national hopelessness and despair; too many jobless people will change the structure of the social fabric of society.

With nearly one quarter of the world's population being without good jobs, this will be the root cause of almost all world problems, from hunger to extremism, out-of-control migration, reckless environmental trends, widening trade imbalance and so on.

Hence, UKM is on the right track in targeting job creation through innovation and entrepreneurship.

"For example, our parliamentarians should know whether the laws they enact attract or repel talented entrepreneurs. School heads and vice chancellors must think beyond graduation rates and think of an education that results in good jobs.

"Even military leaders who want to wage war must think whether their strikes will be followed by a growing economy with good jobs. Local council and mayors must know the impact of every decision on good jobs," Prof Sharifah Hapsah argued.

She said that jobs are created in small and medium sized enterprises (SMEs). In the US 99 percent of the six million companies have 500 or fewer employees, and only 1,000 companies have more than 10,000 employees.

"To build SMEs we need innovators, entrepreneurs and mentors who will light the fire and be the tipping point of extra energy that causes action. Mentors also help make the connections, give advice and lend a hand at critical moments," she added.