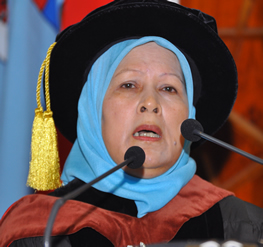 By Abdul Ghani Nasir
Pixs by Ahmad Shahiddan Saidi

BANGI, 23 Mac. 2012 – An economic scholar with the National University of Malaysia (UKM) said Malaysia has yet to optimise its human capital requirements partly due to the low quality of human capital investment, brain drain and the influx of unskilled foreign workers.

It was thus imperative that the quality of such investment like in education and training be upgraded, said Prof Dr Rahmah Ismail, Head Human Resource Research Centre, Faculty of Economics and Management, UKM.

Prof Rahmah was delivering her Professor's Premier Lecture on "Human Capital in Economic Development – Enhancing Productivity and Competitiveness" here today. She said emphasis on higher education alone does not ensure continuing quality in the development of human resource.

The quality of basic education needed to be improved so as to sharpen the minds and talents of students much earlier instead of only at the tertiary level.

She said instilling high discipline and good command of languages should also be given emphasis earlier.

A continuing economic development needed to be balanced with the needs of people who are educated and a workforce who are skilled, highly motivated and disciplined.

Experience of advanced countries like Germany and Japan showed that technical and vocational education are needed in order to push economic development further.

"Research has shown that education in such fields is important in producing the skilled workers needed in high technology. Their need is ever increasing," Prof Rahmah said.

She said that the status of human capital in Malaysia was still behind the newly industrialised countries in the region like South Korea, Taiwan, Singapore and Hong Kong.

The presence of the required human capital was important so as to achieve the status of a developed nation as it would be the catalyst to mobilise other resources like capital and natural resources and at the same time determine the way forward for growth and development through the formulation of strategies and policies, she said.

Prof Rahmah also said that the use of high technology have a close corelation with the demand for highly skilled workers which in turn could reduce the country's dependence on foreign labour.

She said the standard of technology in general was still moderate especially in small and medium industries. But even the foreign owned industries were still labour intensive and were thus very dependant on unskilled or at most only semi-skilled workers for their production.