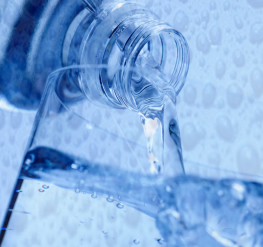 By Saiful Bahri Kamaruddin
Pix Izwan Azman
BANGI, 1 June 2012 – Boiling piped water is the most economical way for the public to ensure it is fit for drinking, says a renowned UKM chemical analyst and researcher.
Prof Dr Md Pauzi Abdullah, who has long been researching public water supply quality, says boiling will rid the water of chlorine odour and kills bacteria at the same time.
Prof Pauzi said as long as chlorine gas or chlorine compounds are used for water treatment, boiling is still better than the alternative methods which are too costly.
Prof Pauzi from the Faculty of Science and Technology of The National University of Malaysia (UKM) was delivering his Inaugural Lecture on "Water in Man's Life: Quality of Drinking Water", at the campus here today.
Although several alternative methodss have been tried, none can ensure the complete purity of piped water with chlorine as one of the most commonly used to disinfect water.
It can be applied for the deactivation of most micro-organisms and is relatively cheap. Disinfection is the process of sanitizing the water.
He, however, said chlorination also produces certain compounds (disinfection by-products - DBP) which have recently become a public issue and the subject of some bad press from water filter retailers.
Prof Md Pauzi allayed those fears, saying that the levels of DBP is so low in this country that they don't even reach the minimum stipulated amount according to the National Standards of Drinking Water with some not even listed as being hazardous enough.
Nevertheless, he cited several methods of water treatment that may be viable depending on the different population sizes of an area.
Among them;
Reduce the use of chlorine, and add chloramines, which are formed in the reaction between chlorine and ammonia. Although still at very low levels, several types of DBP are produced, such as Trihalomethane (THM) and Haloacetic Acid (HAA). Some researchers claim that THM is carcinogenic over the long term. However, the amount of THM in Malaysian piped water is still very low, according to the National Standards of Drinking Water. If chlorine is to be reduced, then the management of sourcing of water (upstream) has to be upgraded, i.e. the water has to be less polluted.

Activated Carbon Filters. These filters can absorb 100% of THM, but only in small quantities. This can only be done downstream, such as in homes, business premises and office blocks. It is not economical for the water utilities company to implement this.

Boil water. It takes only five minutes in most households, and 100% of THM can be eliminated. Just open the lid of the water kettle to allow THM to escape while boiling. Otherwise some THM residue might evaporate inside the container.

Reverse Osmosis (RO). Despite the claims of some RO salesmen, it will not completely eliminate THM. However, this method does rid the water of some other DBP. Suitable for medium-sized volumes, like in homes and business premises. It does not need chemicals, but the filters wear out.

Ozonylisis, or the use of ozone(O3) gas to treat water. As ozone is very active, it doesn't leave any residue in the water distribution system. Ozone is relatively unstable and forms oxygen and water. However, ozonylisis still needs chlorine in the treatment plant. The cost is relatively high compared to chlorination.

Ultra Violet Light Treatment (UV Light). UV light is electromagnetic radiation which is channelled into the water treatment. This method takes too long and is not economical for large quantities.


Membrane Filter Technology can be used as an effective form of non-chemical tertiary treatment when it is desired to recycle the water for industry  or for limited domestic purposes. One celebrated example is the co-called "New Water" in Singapore, which is quite expensive. The treatment, however, produces bromine gas which is more toxic than chlorinated DBP.

Prof Pauzi said the estimated cost of using the various disinfectants alluded to depends on the quantity of water to be treated. Studies done in the United States in 1998 showed that chlorination as the primary disinfectant and chloramines as a secondary disinfectant resulted in the most cost-effective solution compared to other methods.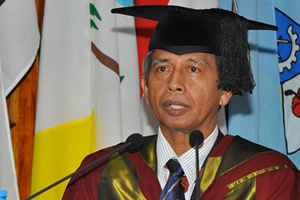 Although membrane technology is the most economical for small-scale water treatment, it is still the most expensive for large populations.
Even now the advantages of chlorine as a disinfectant has yet to be surpassed unless in combination with other disinfectants, Prof Pauzi said.
He said chlorine-based disinfectants leave residues that will inhibit the growth of micro-organisms in the water treatment tanks over a long period. The chlorine will kill the layer of bacteria that tends to grow on the surface of the water in the distribution system. Any discovery of such organisms growing in the tanks should be investigated as it shows that there is a loss in chlorine residues.
Prof Pauzi suggested that the national water utilities upgrade their management of treated water at source, such as the reservoirs and water catchment areas. He cautioned the sourcing water from heavily polluted rivers, such as those tainted by diesel wastes, industrial effluents, faecal matter and rubbish thrown from residential areas.
He proposed that more needed to be done to reduce DBPs and a review of the water treatment systems, especially in the use of alternative disinfectants to replace chlorine.
He hoped the formation of the National Commission of Water Services (SPAN) and the introduction of the Water Services Industries Act 2006 will help to encourage the production of safer water supply.
Prof Pauzi is active in research, especially in analysis and the envioronment. He is a founding member of Water Research and Analysis Centre (ALIR), a centre of excellence in the Science and Technology Faculty. He was ALIR's first head from 2007 – 2010.