By Shahfizal Musa
Pix by Shahiddan Saidi
KUALA LUMPUR, 15 June 2012 – There is a great need for research in sexuality of Malaysians especially among women so as to get accurate data. Unfortunately such research face tough challenges as they are often viewed as pornographic, unimportant and taboo by society.
A psychosexual expert in the Department of Psychiatry at The National University of Malaysia Medical Centre (UKMMC) here, Prof Dr Hatta Sidi said research in female sexuality, for example will not only lead to improvements in understanding the local women's sexuality but also helps to create a more culturally suitable therapy.
Giving his inaugural lecture on "Sexuality and Women, Theory, Functions and Resolving the Puzzle" at UKMMC here today, he said a lot of social problems bringing about very negative impact on society such as divorce, infanticide, sex out of wedlock and suppressed sexual emotions are brought about by sex.
Prof Hatta has authored many books such as "Seksualiti Manusia: Keharmonian Antara Jantina" (Human Sexuality: Harmony Between the Sexes) and "Keresahan Penyakit dan Rawatan" (Diseases Anxiety and Treatment).
The sexual desires of women including Malaysians arise from intimacy and feelings that they are loved. Thus Malaysian women with sexual issues should be analysed under this model before they are labelled sexually dysfunctional.
The Sexual Response Cycle model is important in identifying sexual problems among married couples and the right treatment that should be employed. Using the conventional model, such women were classified as sexually dysfunctional whereas they actually needed a different kind of stimulation for sex.
This will lead to the blame game between couples and cause strains to their relationships leading to separations. The solution requires both husband and wife to work together to improve their sexual life.
Such women are not sexually dysfunctional but just need intimacy and love before sex become desirable.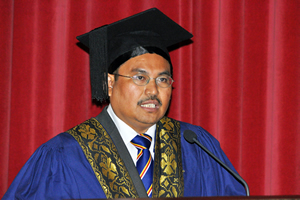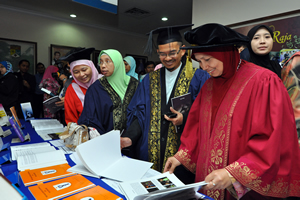 Malaysian women generally needed more than just physical touch when it comes to sex. They may not often feel spontaneous desire for they needed intimacy and loving emotions to stimulate their desires for sex, Prof Hatta said.
The lack of spontaneaty towards sex in married Malaysian women is quite normal and is not a sexual dysfunction.
This is confirmed by Bassom's circular model of sexual response cycle which shattered the conventional model of women's sexual response which focuses on spontaneity and physical stimulation.
Based on the Bassoons model, sexual desires in women can be influenced by intimacy and external factors and not physical touch alone.
Prof Hatta said that to get the wife to be in the mood, the husband needed to do a lot more work than just physical touch including taking her to Habib Jewels, buying her jewellery and showering her with compliments. 
Present at the lecture were the Vice Chancellor, Prof Tan Sri Dato' Wira Dr Sharifah Hapsah Syed Hasan Shahabudin; The Director of the UKM Medical Centre, Professor Dato' Dr. Raymond Azman Ali, Deans of Faculties, Heads of Departments, lecturers and students.