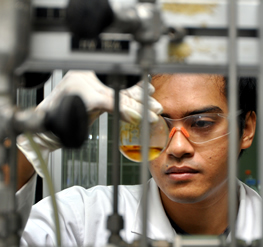 By Saiful Bahri Kamaruddin
Pix Shahiddan Saidi
BANGI, 22 June 2012 – A prolific research professor at The National University of Malaysia who has published more than 240 research papers has called on the private sector to be more forthcoming in providing research grants to universities.
Profesor Dr Bohari Mohd Yamin from the Faculty of Science and Technology (FST) said the corporate sector should provide more research grants to universities so that Malaysia can compete with World-Class institutions abroad.
Malaysia should emulate South Korea and Japan where their major corporations finance research in universities as a long-term investment, he said in an interview with UKM News Portal today.
Current government research grants of just RM20,000 to RM30,000 per research are hardly enough to undertake one research in the scientific field because of rising costs of materials and equipment.
And yet a researcher has to put up with the bureaucracy and red tape when applying even for such a grant when the procedure could have been made more efficient. There are too many steps that a scientist has to face when applying for the grant and then having to wait too long for approval, he said.
Prof Bohari proposes the government or the Science, Technology and Innovation Ministry (MOSTI) rationalise the provisions for assistance to also include suitable corporate sponsorships.
There should be more encouragement and incentives provided by the government to encourage major corporations to provide endowments or set up their own research institutes affiliated to public universities so that more funds can be allocated for research.
Other factors that have hindered progress in research include attitudes of the scientists themselves while the private sector seem to only be interested in quick or almost instant results. He said scientists should also accept research as a career and not regard it as a side occupation.
If the objective for the country is to be more competitive  globally, the corporate sector should invest more in research for the longer term, something which he has seen a lot of in South Korea and other developed economies.
Prof Bohari hoped that local universities and the private sector should not underestimate the capabilities of local scientists in favour of foreign ones. Consideration should be made on merit and not on nationality.
He also urged lecturers to write more papers saying that those in the scientific field should produce at least two papers per year at the minimum, especially for those in the fields of Science, Technology and Engineering.
Such a minimum requirement has still to be realised among many academics in local universities. Their work ethics needed to change and researchers may need to burn the midnight oil to realise their goals.
Prof Bohari suggested that the mind-set for producing high-achievers start at the basic level in universities. Like their counterparts in the developed world, local universities should be more discerning in their entry qualifications.
Universities should be allowed to hold entrance examinations to select the best candidates for enrolment. Universities should also be able to set their own standards to cater to the needs of the long-term goals in research.
As UKM is one of the five local universities that have been given autonomy since February, the proses of vetting students should be considered internally.
This also needed further liberalisation in the policies of each university as well as reducing central control. All these would bring benefits to Higher Education in the country in the longer term.
Prof Bohari is one of the most prolific researchers in UKM, having 241 papers pulished since 2000. Most of his findings have been published in various international journals.
His research were mainly in the preparations of new compounds with various features, such as anti-oxidants, fluorescence or anti-bacterial formulations. He often uses Nuclear Magnetic Resonance to determine properties of compounds at the nano level.
Prof Bohari had lectured at the University of Pohang in South Korea, reputed to be the most advanced in crystallography research in the world.  He also taught and did research at the University of Karachi in Pakistan and the University of Canterbury in New Zealand.
He is also the manager of the X-ray Crystallography laboratory at the Chemical Science and Food Technology Institute of the Faculty.