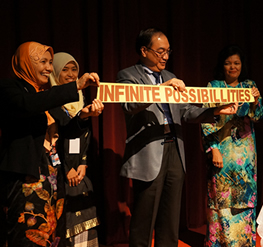 By Shahfizal Musa
Pix Rosli Nasir
KUALA LUMPUR, 28 June 2012 - 'Late night snack causes lack of sleep' and 'do sun screens really protect us?', these are two of the research titles presented at the the 4th Medical Undergraduates Annual Scientific Research Meeting (MUASRM) at The National University of Malaysia Medical Centre in Cheras today.
A total of 57 groups of students from Malaysia and Bandung, Indonesia presented their research findings covering clinical, laboratory, health and community based research at the meeting.
MUASRM is a yearly event where undergraduates showcase their discoveries and innovations. The researches undertaken by the students were to give them exposure and to come up with discoveries or innovations that would benefit the medical world.
While the students were unnanimous that research work were difficult and ardous with one even likening it to "experiencing prolonged labour of over one year" but they agreed that the experience was gratifying and worth it
The presentations featured findings by students who are in their fourth year as part of their course requirement to give them a chance to make discoveries even before graduating. 
MUASRM 2011 last year succeeded in having 20 of the research projects published in indexed journals including one project that brought about a change in the standard method of treatment of incidence of hypertensions in cases of first pregnancies thereby reducing maternal mortality due to that condition.
For the current MUASRM 2012 it was still too early to tell whether any research finding presented can create the same impact.
Dean of the Medical Faculty, Dato' Dr Raymond Azman Ali speaking on behalf of the Vice Chancellor, Prof Tan Sri Dato' Wira Dr Sharifah Hapsah Syed Hasan Shahabudin said research and innovation will allow UKM to create its own niche as a leader in research among universities in the country.
He said it would not be effective for a relatively young university to compete with reputable universities such as Oxford and Cambridge that have existed for hundreds of years.
Such skewered competition would only create a red ocean, which will be counter-productive. Blue Ocean is a concept where you create your own niche which leads to your own market without competition or minimal competition.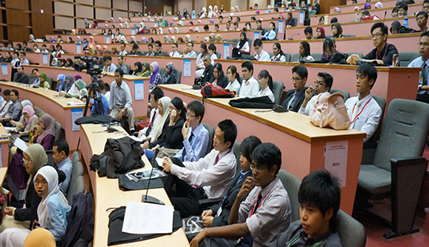 Prof Raymond said research that really matters is research that goes beyond publication as a great research is one that change policies or the accepted way of doing things.
Director of the Institute of Medical Research, Dr Shahnaz Murad in her keynote address said that without research much of the medical treatment taken granted today would not have happened.
Medical research is necessary though it can be expensive and has to make a leap over the valley of death for it to benefit the masses. The valley of death is a term used to describe how most researches end just collecting dust on the self.
One example she gave to show the impact of research is the human genome project to find the sequence of the human gene, which cost over US$3 billion. Yet as a result of the project a person can now map his gene sequence for just US$1,000.
This has now enabled personalised treatment as the genes contain crucial information about risk susceptibility. If a person is genetically susceptible to a certain disease then changes can be made to his life style.
Prior to genome sequencing, a person can only find out about his particular health condition after being afflicted by it. But genome sequencing can preempt such condition.
Thus research offers infinite possibilities as long as researchers remain curious and inquisitive, Dr Shahnaz said.
Present at the opening ceremony was Head of Centre of Tissue Engineering and Head of Special Study Module, Prof Ruszymah Hj Idrus, MUASRM Organising Chairman, Khoo Hau Wei, students and lecturers.