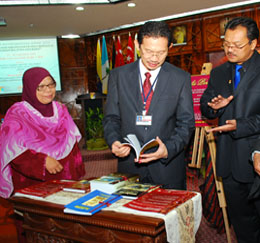 By Abdul Ghani Nasir

BANGI,  29 Sept. 2010 –The Institute of West Asian Studies (IKRAB) UKM should strive to play its role in helping to lessen Islamophobia especially among Western societies by presenting the correct perspective about the region.

Opening an International Seminar on Civilization and Culture of Malaysia-West Asia at the Senate Room, UKM, this morning, Deputy Vice Chancellor, Prof. Dato' Ir. Dr Hasan Basri said issues involving Palestine, terrorism, democracy, war, the military and religion are some of issues dodging the region.

"Maybe the biggest contributory factor to Islamofobia is all the sum total of all the things that exist in the region. IKRAB should thus undertake research and academic activities that will enable Malaysia's views on the issues be heard.

"IKRAB research fellows should strive to have their works accepted at the international level to promote the institute, UKM and also Malaysia as a nation and Islamic society that understands and is conscious of events going on there," he said.

Prof Hasan said that UKM and the nation also want it to be able to provide the second opinion of the issues between the great powers and people of the region.

As a region that is important to world peace and the well-being of Muslims worldwide, West Asia will remain relevant and can contribute to civilization. For more than a decade, the West championed the research on West Asia from Oxford to Cambridge, from London to Leidin, from Harvard, Los Angeles and Washington up to Sorbone.

The West, he said, had conquered the ideas and epistemology of West Asia and moulded it to suit themselves before presenting it to the world negatively and in a bias manner.

"Thus IKRAB should striveto be more effective by offering a new perspective on  West Asia to the world. IKRAB should challenge the status quo presented by the West besides helping to train human capital and give meaningful ideas for the prosperity and peace of the region," he said.

Research on West Asia should also stress the importance of academic culture whose objective is to search for an end to every issue in the region.

Twenty six researchers presented their papers at the two day seminar aimed at strengthening relations between Malaysia and countries of West Asia.

Nine session were conducted today with the main papers entitled: Historical Influences and Cultural Inhibitions in the Development of Science, Engineering and Technology in Islamic Countries by Prof. Dato' Dr Abang Abdullah Abang Ali; Malaysia As An International Education Hub:Opportunities and Challenges by Prof. Dr Mohd Safar Hasim; and Challenges and Roles of Malaysians in the Gulf States by Prof Dr Siti Rogayah Tibek.  

Also discussed is the working paper on the Unification of Currency Among Islamic Countries in West Asia and its Role in Unifying Muslims Worldwide. Part of the seminar was conducted in Arabic.