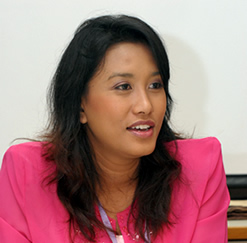 By Abdul Ghani Nasir
BANGI,  8 Dec. 2010 – A study by a Universiti Kebangsaan Malaysia (UKM) specialist doctor on teenagers who stopped smoking cigarettes showed that majority of the youth had actually attempted to quit smoking four times or more but failed.

Dr Hizlinda Tohid, a lecturer and specialist family doctor, with the Department of Family Medicine UKM Medical Centre, (UKMCC), Cheras said the findings is similar to other researches where it is estimated that 78 per cent of teenagers who quit smoking relapsed after six months.

"Most of them depended on their will power to stop smoking but the high rate of relapse showed more effective strategies needed to be planned and carried out," she said.

She mentioned The National Health and Morbidity Survey of 2006 which showed  8.7 percent of smokers were teenagers while other surveys carried out between 2000 to 2007 showed a higher percentage of teen smokers at 30-37 per cent. This compares with 16.9 per cent in 1986 and 18.2 per cent in 1999.

The danger of cigarette smoking is well-known to most people – with about 4,000 chemical compounds found in the cigarette smoke and these include poisons and over 40 of them are known to cause cancer while approximately one in every five deaths in the country is due to cigarette smoking.

Dr Hizlinda said that teenagers often experimented with risky behaviours such as smoking, using drugs and alcohol during their adolescent years with the mean age of smoking initiation among them at between as young as12 to14 years.

The study by Dr Hizlinda focussed on the effectiveness of strategies getting people to give-up smoking and barriers to successful stoppage of smoking among teenagers.

It was a dissertation submitted in partial fulfillment for the degree of Master of Medicine (Family Medicine) UKM in 2009.

Dr Hizlinda said that her qualitative study suggests that smoking cessation among teenagers is a complex process.

"It is not easy to quit smoking and remaining so. This is greatly caused by the addiction to nicotine. It is as addictive as cocaine and heroin. Cigarette smoking is also a 'gateway drugs'," she said.

In carrying out her research, she used a case study designed to explore the perception of 40 participants (24 teenagers - smokers, ex-smokers and non-smokers), eight teachers and eight doctors on the current stop smoking strategies.

The data was collected via a questionnaire, five focus groups studies and four in-depth interviews. The transcriptions of the interviews were then analysed using the Social Cognitive Theory as its theoretical framework.

Responding to the reasons for the failure, the teenagers involved, the teachers and doctors believed the current strategies employed were not effective while the multiple barriers could be categorised into three major factors.

First is behavioural factor related to nicotine addiction and psychosocial dependence. The second factor is environmental – factors related to the teenagers' environment that could promote teenage smoking and thirdly teenagers' personal factors that could make them more resilient to giving up smoking.

Dr Hizlinda stressed that cigarette smoking is an addictive, destructive and dangerous habit.

"It is also the greatest avoidable causes of mortality and morbidity. However despite the many studies testifying to these facts, cigarette smoking is still widely practiced and considered as an acceptable social act," she said.

Most smokers are aware of the detrimental effects of smoking, but this knowledge alone has been shown to be insufficient in achieving successful smoking cessation.

Research and strategies in anti-smoking have been more focused on prevention and getting adults to quit smoking, rather than getting the teenagers to quit smoking.

"Therefore, more innovative studies and strategies needed to be carried out to get teenagers to stop smoking," she said.

Dr Hizlinda said that health concern have been the most frequently reported reason for quitting to smoke among teenagers. Others include saving money, declining in athletic or artistic performance, peer disapproval, dating a non-smoker, parental disapproval and seeing people with smoking related illnesses.

The girls gave additional reasons of boyfriend objection, future orientation and parental aversion.

During the interviews, all of the teenagers claimed that in the past  they never received any professional help whenever  they tried to stop smoking. A majority of them said that they sought their friends' advice on how to quit and among the common methods that they had tried were drinking a lot of water, chewing gums and taking sweets.

Dr Hizlinda also gave a list of recommendations and holistic approaches in order to help teenagers to stop smoking and ensure its success.

Dr Hizlinda obtained her Bachelor of Medicine, Bachelor of Surgery (MBChB) from the University of Manchester, United Kingdom in 2000 and her Master of Medicine (Family Medicine) UKM in 2010.  
 

Dr Hizlindda is a member of The Academy of Family Medicine Specialist Association and also a Member of the Malaysian Medical Association.

She can be contacted at  the Department of Family Medicine, UKM Medical Centre, Cheras  at Telefon Number: +603-91456119