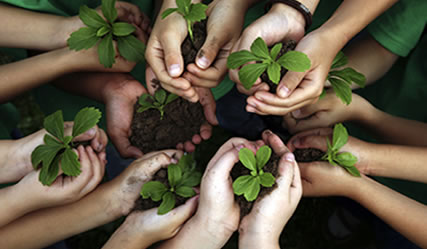 By Siti Madihah Ahmad Mahir, UiTM Industrial Trainee Student

BANGI, 24 Jan. 2011 – Students from the Pure Science stream has been found to be the least committed towards the environment compared to their counterparts from the Professional and Social Sciences streams.

As the level of commitment towards the environment influences the level of environmental-friendliness, they were thus found to be the least environmental-friendly among UKM students gauged in a poll.

The findings was based on a survey by a Masters in Educational Psychology graduate from UKM's Faculty of Education, Tan Pei San who undertook the study with the help of Associate Professor Dato' Dr Norzaini Azman.

A set of questionnaire were distributed to 360 final year undergraduates at the university from all three streams to test their levels of environmental commitment and environmental friendliness.

The students were selected from five faculties categorised into the three streams of study, namely the Faculty of Science and Technology (Pure Science stream), the Faculty of Social Sciences and Humanities (Social Science stream) and the Faculty of Education, Faculty of Law and Faculty of Engineering (Professional stream).

Commitment towards the environment was gauged from the students' attitude towards an issue or cause related to the environment and whether they supported or contributed to the issue or cause.

The survey measured environmental commitment through the students' stance on the environment such as environmental friendliness and belief that environmental well-being can influence people's well-being. Environmental friendliness was defined as an act to sustain and care for the environment.

A respondent's environmental-friendliness was evaluated through the frequency of actions such as separating recyclable and non-recyclable materials before disposing them, refusing to use polystyrene containers, saving water and electricity as well as reducing the usage of individual vehicles infavour of public transport.

The findings of the survey supported an earlier study published in the Journal of Environmental Education in 2000 which contended that such views held by the pure science students may be due to their perception that technology alone could solve environmental problems.

Tan, however, felt that there was no certainty in that belief thereby proposing further studies be carried out to identify the root cause.

The study, entitled Hubungan Antara Komitmen Terhadap Alam Sekitar dan Tingkah Laku Mesra Alam Sekitar, recommended that the curriculum for environmental-related courses for different streams be revised as the existing one was not able to encourage a consistent behavior in environmental care.

It also proposed activities to inculcate higher commitment towards caring for the environment be held. They include awareness campaigns, gotong-royong as well as providing enough recycle bins.

The media also needed to play their role by screening documentaries on the environment and publishing reading materials on environmental issues to inform and educate the people.

The findings was presented at  the International Conference on Ethics and Professionalism (ICEP 2010) held here early last month.