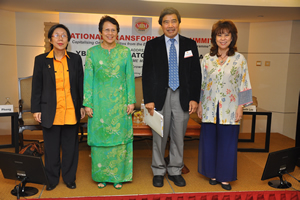 By Abdul Ghani Nasir
Pix by Ahmad Shahiddan Saidi

KUALA LUMPUR, 18 Feb. 2012 – Education in the country needed to continue to rise to meet the nations's challenging and increasing aspirations as well as the need for talent under the National Transformation Plan.

Vice Chancellor of The National University of Malaysia (UKM), Professor Tan Sri Dato' Wira Dr Sharifah Habsah Syed Hasan Shahabuddin said today: "It also must keep pace and raise our standing amongst peer countries who are continuing to improve and move forward."

She was taking part in a panel discussion on National Key Result Area (NKRA): Bringing Quality Education in conjunction with the two day National Transformation Summit, at the Crowne Plaza Mutiara Hotel here today.

She listed out six areas that needed to be given attention: revising the curriculum and standards, ensuring an appropriate reward and remunerations structure for teachers and principals, building the technical skills of teachers and principals, assessing students, establishing data systems and facilitating improvement through the introduction of policy and education laws.

She said the education system must keep on evolving to deliver on the new requirements for the talent base needed under the National Transformation Plan (NTP).

Prof Sharifah Hapsah said the momentum of improvements which was already in place with teachers being the most important element must be sustained.

This is because it is not about just changing the explicit structure and approach of the system but about how teachers think about teaching and learning, about how they internalise teaching practices.

"To sustain the change we should establish collaborative practices between teachers within and across schools, developing a mediating layer between schools and the centre, among the district and state education offices and the Ministry of Education. We must architect tomorrow's leadership," she said.

School systems that sustain improvements have learned how to navigate the challenges of their context and to use the context to their advantage.

The good news, she stressed is "we can move one notch up in about six years if we put our hearts and mind to work on interventions.

"There is no magic formula but we do have a clear path with signposts with interventions that we must apply consistently with integrity, rigor and discipline."

Prof Sharifah applauded the move by the Minister for Education and the ministry for their boldness in undertaking a comprehensive review of the education system as it will give input for the national blueprint for education that is being developed for release by the end of the year.

Education, she said, is at the heart of our journey towards Vision 2020 and is responsible for producing the talents to achieve the goal of a high income nation through an economy that is inclusive and sustainable, ultimately resulting in a better quality of life for the people.

On the need for a fresh approach for a whole system reform, Prof Sharifah Hapsah said it must proceed on the basis that each child is precious and must be catered to.

Spending on education alone is not enough as research has shown that increased expenditure does not equate with improved student performance.

"We should make an honest appraisal and diagnosis of the system, of where we are now in terms of student performance and outcomes. Are we poor, fair, good, great or excellent?

"With this understanding we should then look at how the world's most improved school system, keeping better in terms of significant, sustained and widespread student outcome, gains.

"What are their strong points, what are their clusters of interventions and what pathways do they take to progress from poor to fair, fair to good, good to great and great to excellence," she said.

With regards to interventions, Prof Sharifah Hapsah gave an example, assuming Malaysia is at the good performance level and it wants to move from there to great.

For that to happen all its educators needed to be professionalised where teaching and school leadership is regarded as a full fledged profession.

We need to look at raising the caliber of entering teachers and principals, raising the caliber of existing ones and improving school based decision-making.