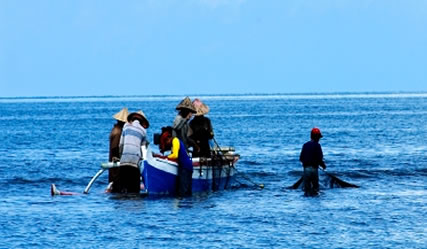 By Abdul Ghani Nasir
Pix by jokokoil.wordpress.com

BANGI, 8 Feb. 2011 – A group of researchers from the Bioscience Department, Faculty of Allied Health, UKM has suggested that the residents in two villages in Mersing, Johor diversify the sources of their food intake since their bodies were found to be copper deficent .

The researchers recommend that residents in the villages of Penyabong and Pulau Aur in Mersing eat more liver, cockles, vegetables, beans and cereals in addition to fish which formed their main daily diet.

They said that it was necessary if the villegers were enjoy a healthier life as traces of zinc and copper are important elements in the normal fisiology of a human body. The lack of copper can lead to anemia.

The research to identify the level of zinc and copper intake in foods of the fishing community in Mersing and Pulau Aur was undertaken by Ismarulyusda Ishak, Nihayah Mohammad, Marliana Shamsir, Hidayatulfathi Othman, Mardiyanna Mohd Adi, Zahirah Zulkifli, Mohd Jamil Mohd Rafaai, Abd Shukor Hakim dan Nor Zaidi Mad Ariffin.

Their research entitlted :The Status of Intakes of Zinc and Copper in the Food of Fishing Villagers in Mersing and Pulau Aur was tabled at a Seminar organised by the EcoMarine Research Centre (EKOMAR), Mersing, last month.

The study used a survey form to collect demographic data and eating habits of 67 villagers comprising 41 women and 26 men. More women took part as they have more free time.

The study aimed at ascertaining their nutritional needs and recommend ways to help them fight against sickness. The main source of protein for the villagers was fish mainly selayang, kembung and selar.

"Therefore it is important to identify the status of their intake of zinc and copper." The report said that copper can be found in abundance in foods like beans, cereals and animal meat except milk.

"Data for the questionaire was compiled and analysed using the Nutritionist Pro and SPSS version 16, ' said the report.

Based on the analysis the level of copper among those involved registered a range of only 0.5-1.0 mg and 0.68±0.19 mg whereas the daily intake of copper for an adult should be around 5mg per day. Thus most of the villagers have a very low copper intake.

However the level of zink intake among those surveyed ranges within 0.5-5mg and with an average intake of 2.86 ±0.786mg.

"Adult females needed about 4.9mgof zinc/per day and men  6.7mg/per day. It can thus be summarised that in most villagers the level of zinc in their bodies is just below normal."

The low presence of copper traces found in their bodies was due to their fish diet. The villagers did not take much cereals and beans," said the report.

Fish have less copper compared to zinc and because of this the villagers needed to diversfiy their sources of food, the report said.